Okay folks listen up..this is an accurate tutorial IMO tested and written by myself. Before following this tut make sure you have a stable power supply / backed up your phone memory /removed your memory card,sim and above all
battery charge above 80%
Ps- this tutorials works on both s3650 and s3653
THIS TUTORIAL IS DIVIDED INTO 2 SECTIONS
1st section
:
Guide on how to flash your phone (same method applies to both models s3650 and s3653)
2nd section
:
Guide on how to apply patches/GUI mods (themes) to your phone (go
here
to see how a patched corby looks like)
lets do it :)
Section 1: The flashing part
you'll need :
1)S3650XEIJ2 Firmware
: get
here
2)Multi loader v5.56 (5.60 wont work)
3)Samsung mobile USB modem software 1.0 : get both here
Steps
1)install samsung mobile usb modem (
THIS IS ESSENTIAL
), and extract S3650XEIJ2.rar to a folder
2)Connect your mobile usb cable to the computer without the PHONE!
3)Press Volume down button and camera button at once and turn on the phone while holding those 2 buttons
4)now this screen should come up :
5)now connect your phone to the usb cable and open the Multi Loader 5.56..
Multi Loader screen shot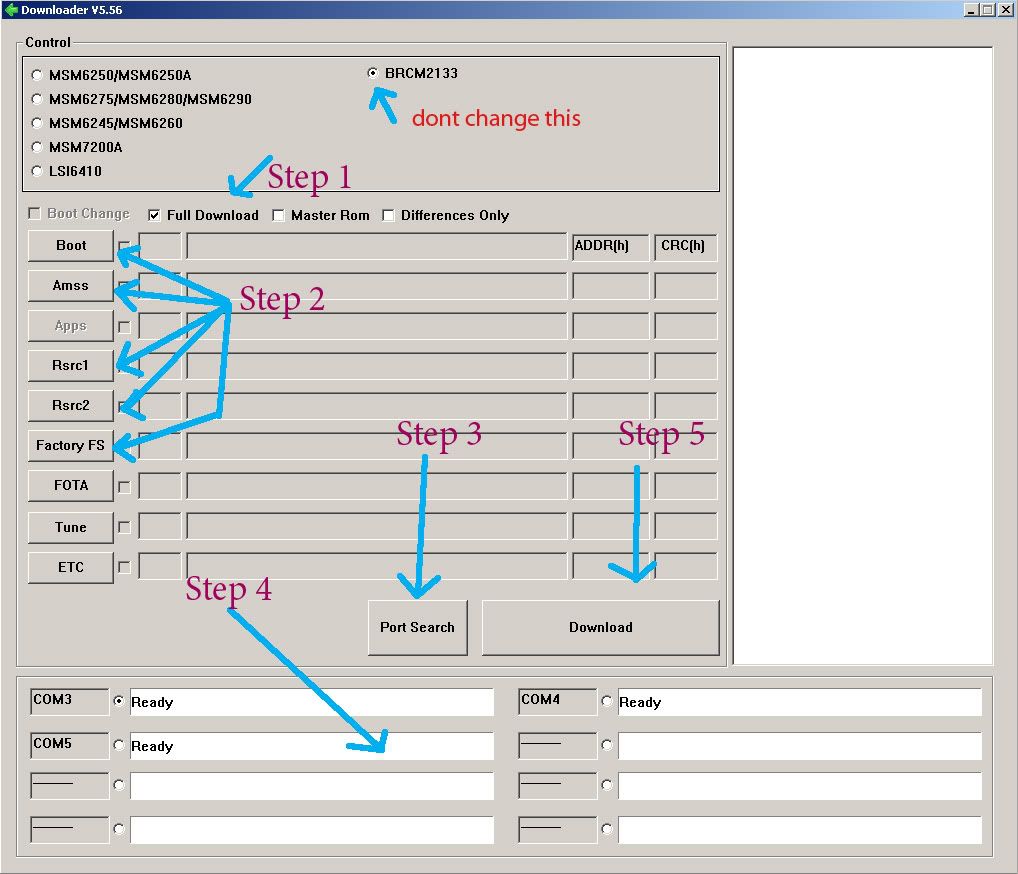 Step 1:
put a tic on '
full download
'.. leave others alone
Step 2:
For
BOOT
choose "
boot files"
folder from the extracted
S3650XEIJ2 Firmware
For
AMSS
select
apps_compressed.bin
For
Rsrc1
select
Rsrc_S3650_Open_Europe_Slav.rc1
(the name may vary but extension should be the same '
.rc1
' )
For
Factory FS
select
FactoryFs_S3650_Open_Europe_Slav.ffs
(the name may vary but the extension should be the same '
.ffs
' )
Ignore 'FOTA' , 'Tune' and 'ETC'
Step 3:
Click
Port Search
and when found put a tick
Step 4:
Then Click
download
and wait till it finishes.. and then unplug the usb cable.. remove the battery and turn on your new phone! :D :D
This tutorial will continue from "section 2: the patching part (and GUI Mod)"
IF YOU HAVE ANY QUESTIONS FEEL FREE TO ASK